Sonoma County Family YMCA
1111 College Ave.
Santa Rosa, CA 95404
On the corner of College and Stewart, in Santa Rosa.
Call us at (707) 545-9622!
Press 0 for the Front Desk, or listen to the prompts for other departments.
Hours of Operation
Weekdays: 5:30 AM - 8:30 PM (Pool closes at 7:45 PM)
Weekends: 8 AM - 6 PM (Pool closes at 5:45 PM)
Membership Center
Weekdays 9 AM - 5 PM (9 AM - 6 PM Mon and Thurs)
Weekends 10 AM - 2 PM
Childwatch
Weekdays 9 AM - 1 PM, 3:30 PM - 7 PM
Saturdays 9 AM - 1 PM
Sundays 10 AM - 1 PM
Holidays and Closures
Easter Sunday

Memorial Day

4th of July

Labor Day

Thanksgiving Day

Christmas Eve

Christmas Day

New Year's Eve (hours TBD)

New Year's Day
This is our main facility which houses our two indoor pools, dry sauna, fitness center, group exercise studio, Activity Center, outdoor basketball court, men's and women's locker rooms and Child Watch.
This is also where you would come in to register for facility membership and sign up for most programs (there is a separate building for before and after school childcare, preschool, seasonal camps, youth sports and teen specialty programs).
OUR MISSION
The Sonoma County Family YMCA is an inclusive, charitable organization that enriches community through the areas of Youth Development, Healthy Living, and Social Responsibility.
OUR FOCUS
YOUTH DEVELOPMENT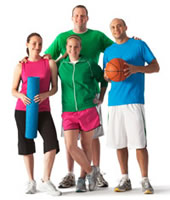 We believe the values and skills learned early on are vital building blocks for life. Because of the Y, more young people in neighborhoods around the nation are taking a greater interest in learning and making smarter life choices. At the Y, children and teens learn values and positive behaviors and can explore their unique talents and interests, helping them realize their potential. That makes for confident kids today and contributing and engaged adults tomorrow.
HEALTHY LIVING
Being healthy means more than simply being physically active. It's about maintaining a balanced spirit, mind, and body. The Y is a place where you can work toward that balance by challenging yourself to learn a new skill or hobby, fostering connections with friends through our lifelong learning programs, or bringing your loved ones closer together through our many family-centered activities. At the Y, it's not about the activity you choose as much as it is about the benefits of living healthier on the inside as well as the outside.
SOCIAL RESPONSIBILITY
The generosity of others is at the core of the Y's existence as a nonprofit. It is only through the support of our hundreds of thousands of volunteers and public and private donors that we are able to support and give back to the communities we engage.
GET TO KNOW US
OUR COMMITMENT TO INCLUSION
The Y is made up of people of all ages and from all walks of life working side by side to strengthen communities. Together we work to ensure that everyone, regardless of ability, age, cultural background, ethnicity, faith, gender, gender identity, ideology, income, national origin, race or sexual orientation has the opportunity to reach their full potential with dignity. Our core values are caring, honesty, respect, and responsibility - they guide everything we do.
Financial assistance is available.
The Sonoma County Family Y is a cause-driven organization that is for youth development, for healthy living, and for social responsibility. That's because a strong community can only be achieved when we invest in our kids, our health, and our neighbors.
SAFETY AND SECURITY
We strive to maintain a safe and secure environment. We will not tolerate those who do not respect other members or staff, use foul language, purposely try to hurt or steal from others, or otherwise engage in lewd or inappropriate behavior. Injuries and other accidents should be reported immediately to the staff supervisor on duty. We recommend you leave your valuables at home. The YMCA is not responsible for lost or stolen items. For the safety of all, animals are not allowed in the YMCA facility, except identified service dogs. Please do not leave your animals unattended on the YMCA grounds. The Y is a smoke-free campus.
Strengthening Our Work Through the Diversity of Our Community
The Y is made up of people of all ages and from every walk of life working side by side to strengthen communities. Together, we work to ensure that every individual-of any gender, income, faith, race, sexual orientation or cultural background-has the opportunity to live life to the fullest. We share the values of caring, honesty, respect and responsibility-everything we do stems from these.
We know that the key to effectively nurturing the potential of children, improving the nation's health and well-being and supporting our neighbors is a passionate, experienced and diverse array of staff, volunteers and members who value what everyone brings to the table. Working in 10,000 U.S. communities and more than 120 countries worldwide makes strong diversity and inclusion practices paramount for the Y.
Believing we all benefit from the unique talents of our diverse staff, we encourage all Y employees to form and participate in active groups with other employees who share similar interests or backgrounds. Employee Resource Groups give our employees opportunities to contribute, learn, network and share experiences as they progress in their careers. Employee Resource Groups provide invaluable input and insight to address challenges in our communities.
The Y offers professional development and training programs that steward staff through a range of opportunities that build 21st-Century leadership competence and help them obtain the experience they need to lead YMCAs in all our communities.
Diversity and inclusion practices at the Y foster a high-performing learning environment where staff and volunteers are engaged and valued and where they are encouraged to collaborate, generate ideas and contribute at the highest level. We are passionate about our cause and know that our ability to achieve it begins with reflecting and partnering with all people and communities.
Furthermore, The Sonoma County Family YMCA is committed to making all reasonable efforts to ensure that its facilities, programs and services are accessible to, and usable by, the people we serve, including those with disabilities. This policy reflects our commitment to comply with the Americans with Disabilities Act and other applicable law and regulations on accessibility. The Sonoma County Family YMCA will not discriminate on the basis of disability or impairment and will not exclude persons with disability or impairment from reasonable access to any facility or from participation in any program or activity. It is our goal to provide equal access to all and to treat everyone with dignity and respect.
Requests or inquiries about access to facilities, programs or activities, or other special needs, may be made by contacting Michelle Head at mhead@scfymca.org or 707-545-9622 x3120.
Adopted 5/21/2018
LOCAL YMCA HISTORY
1954 YMCA founded in Sonoma County. Indian Guides and Summer Camp programs serve youth and families.
1972 Program and physical education facility built near downtown Santa Rosa, where it remains today. Aquatic, Sports and Family programs begin to expand.
1993 4,000 square foot Activity Center added to expand the original complex. Aerobics, Fitness, Parent-Child and Childcare programs expand outreach.
1995 Teaching pool added, providing the capacity for special water-based activities. Aquatic programs for challenged and disabled adults and children enhanced.
2003-2005 Lobby and Child Watch area remodeled and enhanced. Added new 4,700 sq. foot 2nd Story Fitness Center with all new fitness equipment; larger locker room areas, including Youth & Family areas, and a unisex changing room. Put in a new, improved members' lounge, complete with snack and beverage cart. Improved the natatorium by adding new large pool liner, skylights, and a dehumidifier system. Emphasis was added to Activate Youth and Asset Development programming.
2012 On July 1st the Sonoma County Family Y expanded to include the new Y Annex, located adjacent to our Administrative offices at 610 Stewart Street, the Y Annex will offer a variety of youth and adult special interest classes.
2018 Baseball/Softball Complex offering two full-size batting cages with baseball/softball pitching machines, designated tee area with nets, specialized pitching and catching cage and practice field.
NATIONAL YMCA HISTORY
Together, the nation's 2,700 YMCAs are the largest not-for-profit community service organization in America, working to meet the health and human service needs of 20.2 million men, women, and children in 10,000 communities in the United States. YMCAs are at the heart of community life across the country: 42 million families and 72 million households are located within three miles of a YMCA.
YMCA stands for Young Men's Christian Association, but don't misinterpret this to mean that YMCAs are only for "young, Christian men." From its start, more than 150 years ago, when George Williams founded the YMCA as a substitute Bible study and prayer for life on the streets, the YMCA was unusual because it crossed the rigid lines that separated all the different churches and social classes in England in those days. This openness was a trait that would lead YMCAs to recognize their strength is in the people they bring together -- Ys are for all people of all faiths, races, ages, abilities, and incomes. YMCAs' financial assistance policies ensure that no one is turned away for reasons of inability to pay.
INTERNATIONAL YMCA HISTORY
The World Alliance of Young Men's Christian Associations is a confederation of National Councils of YMCAs around the world. The National Councils are composed of local associations within their countries. The World Alliance was established as early as 1855, at the first International Conference of YMCA held in Paris. As such, it is the oldest voluntary international organization in the world today. At the first international conference of the YMCAs, there were representatives from 38 YMCAs mainly from countries in Europe and North America. Today, the World Alliance represents YMCAs in more than 120 countries of the world and is continuing to expand.

Commitment to its mission has led YMCAs to work with all people in the community irrespective of religious, racial, gender or cultural background. This commitment has also led the YMCA to work for social change, addressing the root causes of issues and problems faced by people. In addition to recreation, sports, and educational activities as well as the front-line services to refugees and displaced people, in many countries, the YMCA is also engaged in the formation of movements for social change. It is involved in people's issues through community organizing and programs for empowering the people. Issues such as racism, youth at risk, and unemployment are creatively addressed by many YMCAs in response to growing secularization, consumerism and fragmentation. The YMCA, in keeping with its spiritual basis, continues to explore and renew a spiritual basis.